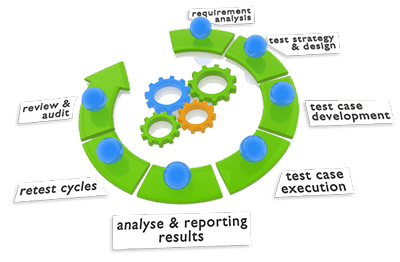 At Engenia, Software Testing services are designed to provide thorough test consulting and delivery services to clients that would help them enhance their software quality, help ensure user satisfaction, reduce time to market and help maximize the testing ROIs.
Engenia's software test consulting is designed to provide clients with software testing based advisory services in the areas of testing strategy, methodology, and process and test competency assessment across the testing life cycle. It is designed to help in identifying, adopting and implementing the industry-wide best practices in order to improve the test effectiveness and productivity, while reducing the cost of quality.
Software testing – consultancy, resourcing, training and managed services are offered to internal and global customers to help them deliver quality software products and applications to clients. Deep industry knowledge on both the business and technical sides of testing (across different domains) enables us to create innovative approaches that deliver accelerated results. We use an established testing methodology and employ a wide range of industry-standard testing tools to provide your organization with better software quality.